Products / Portable ballet barres
Height-adjustable premium double ballet barre Royale
If you're looking for a height-adjustable ballet barre with the stability of a fixed barre, the Royale is the model for you. With a total weight of 76 kilos, double uprights to hold two beams, and a mechanism that allows for 10 positions, the Royale is the ballet barre of choice for the most demanding dance schools.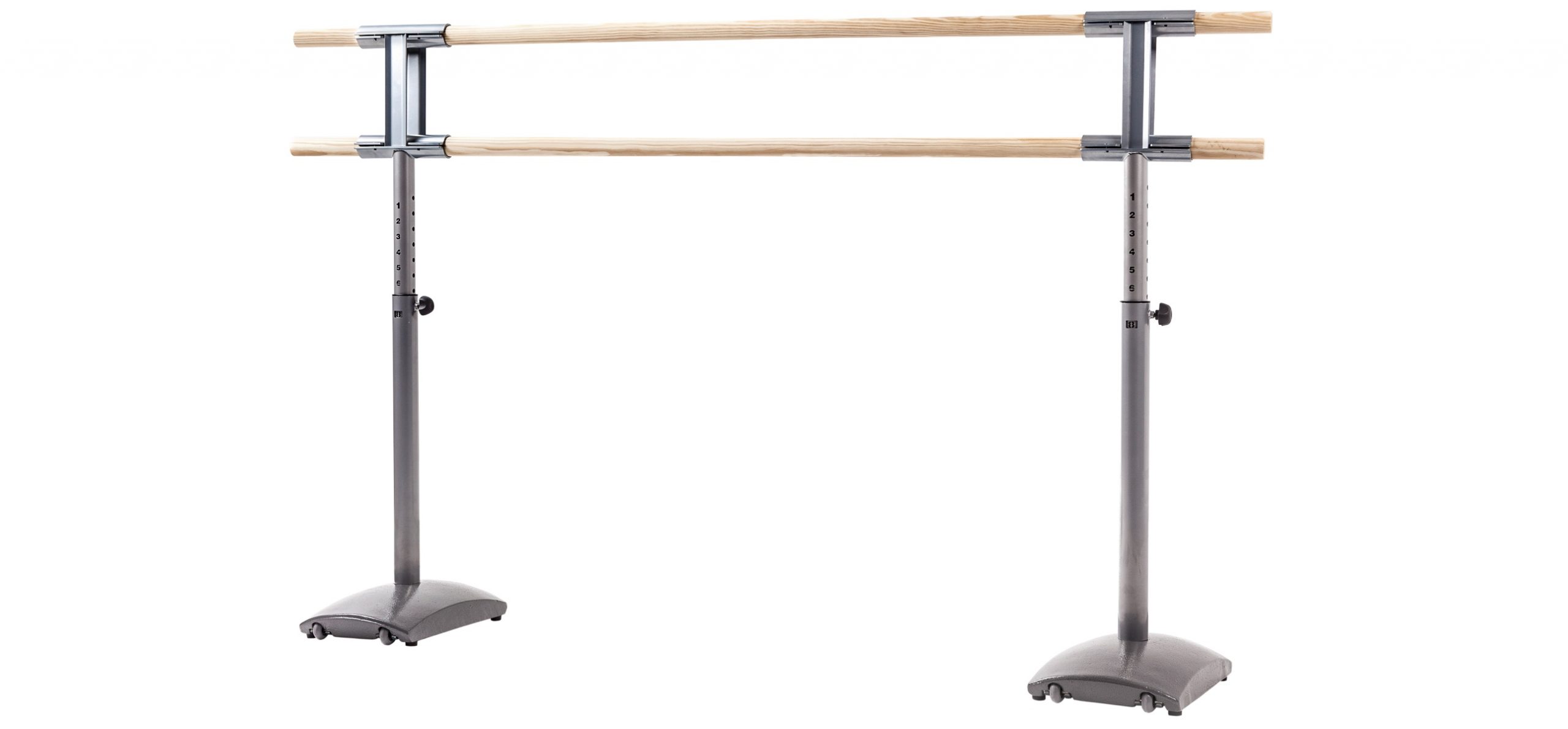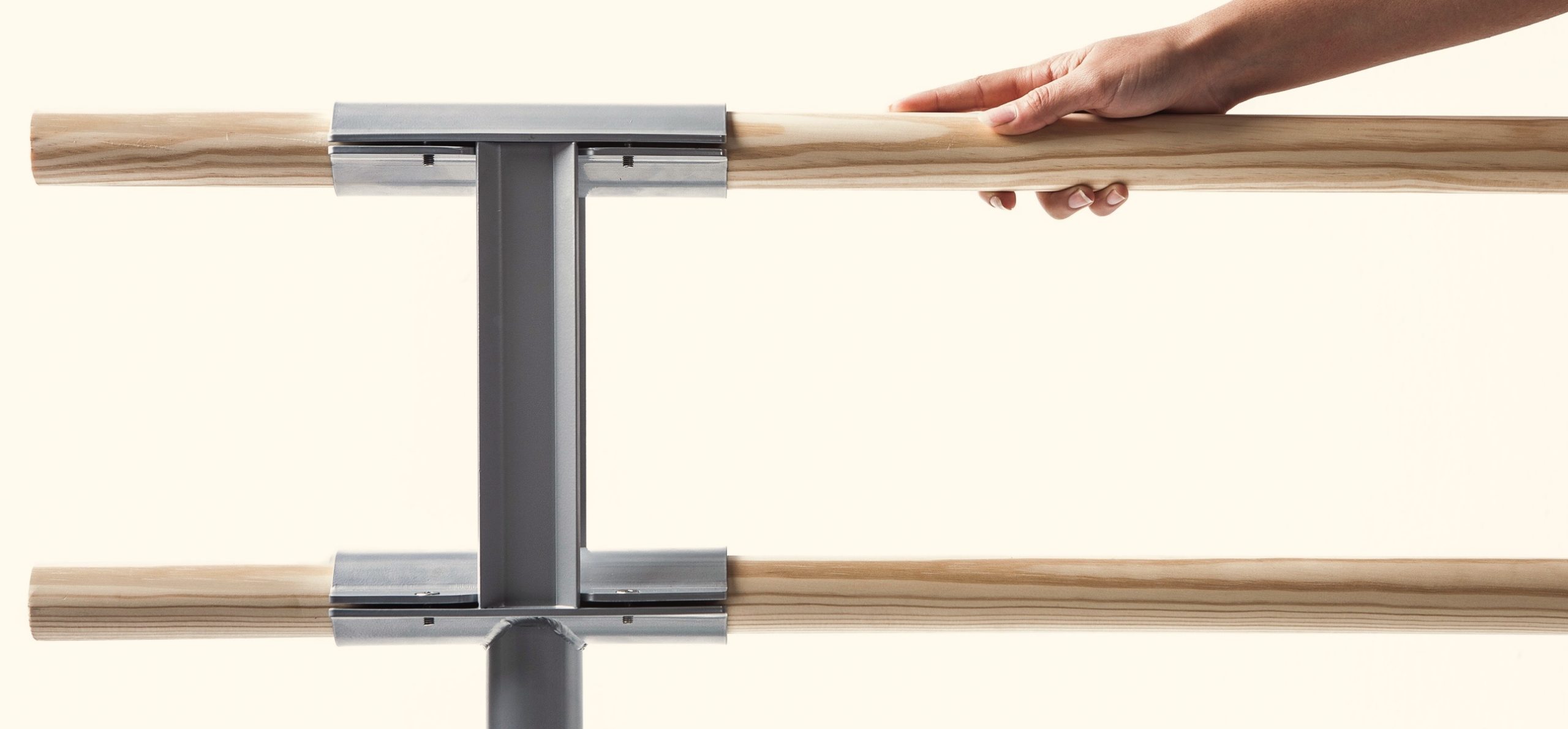 The most stable height-adjustable ballet barre you'll find
The Royale is a ballet barre for dance professionals who want a top-performing portable barre. The bases, weighing 30 kilos each, are made of cast iron and feature four high-density rubber wheels, and allow for one dancer to move along the barre with great comfort and security.
The base is designed so the wheels don't touch the floor when you train, providing unmatched stability in a portable ballet barre. The Royale lets students of all ages enjoy total stability, and gives you the mobility to free up space after warm-ups.
Maximum flexibility in the studio with quick height adjustments
Dinamica Ballet's double uprights support two wooden bars set at 19 cm from one another. Using the mechanism that adjusts the height, you can work with a minimum height of 73 cm and a maximum of 123 cm, so you don't have to worry about what to do with height differences among your dance students. No matter the position set, the Royale is always extremely stable and highly efficient.
The exclusive design of the Dinamica Ballet double uprights distributes the weight a dancer puts on the wooden beams. This ballet barre is available with two wooden beams of 2 m or 3 m in length.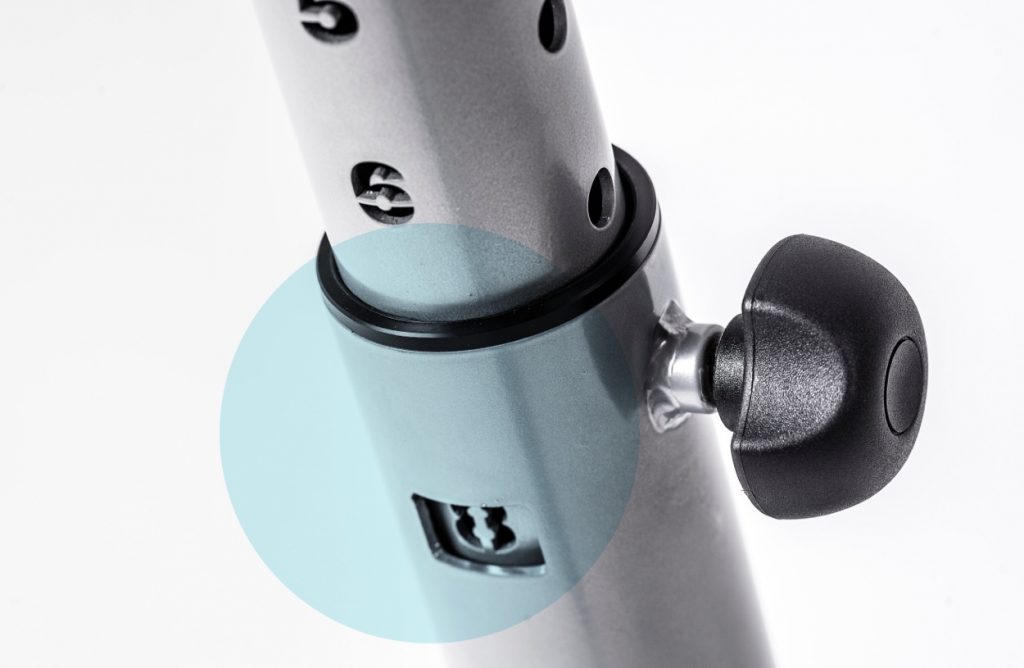 Cast iron, steel and pine for decades of dance practice
The steel uprights are finished with silver epoxy that protects them against dings and scratches. The bars, made of Southern yellow pine wood from sustainable forests, were carved from a single piece and smoothed with care to protect your hands.
Wood is a living material that offers great resistance with a bit of flexibility, and an optimal grip with a pleasant and warm feel. We deliver the uprights with the adjustable mechanism and base already assembled, so you can get to work in just a few minutes after your Royale arrives.
3 supports, 4 and 5 meters, or even more!
Space flexibility is essential. Our premium ballet barres are used in venues where a variety of activities take place, and where space needs to be adapted constantly. The structure designed for our portable ballet barres offers great stability for practice and optimal mobility.
We offer you the ballet barre Royale in 4-meter and 5-meter length with three supports, so that several people can train on the same barre. Additionally, you can continue to have total freedom in the room thanks to their ease of movement. You will find this barre with this innovative configuration with both wheeled and flat base types.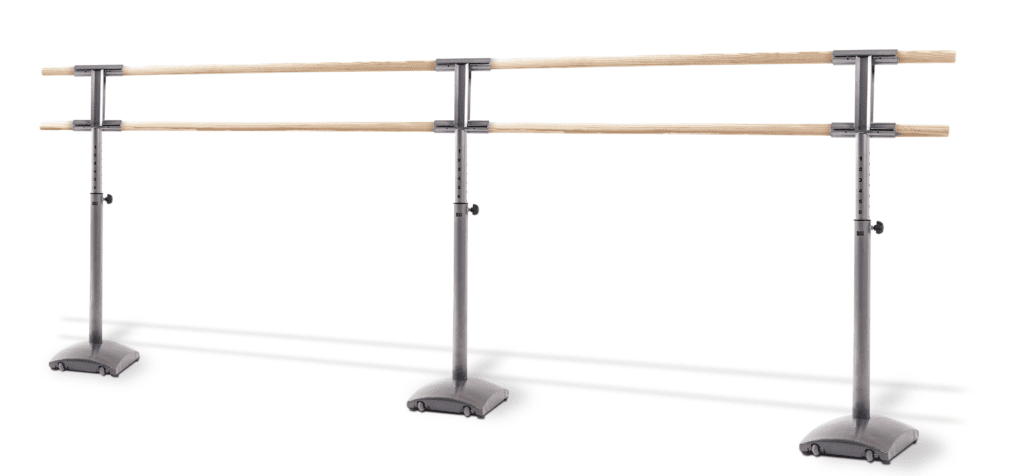 More info